Aircon and Climate Control
At TSW Auto Repairs our technicians are trained to deal with all aspects of Auto Air Conditioning. We provide air conditioning services on all passenger cars, 4WD and light commercial vehicles. If you need an air conditioning service or are in need of an air conditioning recharge we'll ensure to provide you with a reliable and affordable service.
Gas recharging

Diagnose, repair or replace faulty components

Resolve problems with smells and odours

Electrical problems traced and diagnosed
Air Conditioning
Air conditioning has been rapidly standardised over the last 10 years due to the major enhancement it brings to passenger comfort. However, drivers are only just realising that air conditioning systems do require regular maintenance. Vehicle Air conditioning systems will tend to lose refrigerant over time as refrigerant permeates through the physical joins between components. Over time this will cause deterioration in performance. Worse still, if you leave your air conditioning operating with a low refrigerant level more serious problems can occur, lubricant circulation may be affected and air or moisture may enter the system.
Poorer fuel economy as the compressor remains engaged to attain lower temperatures
Internal corrosion caused by air or moisture reacting with refrigerant
Component or system failure
Call us to now book your air conditioning service or enquire about our gas recharge service.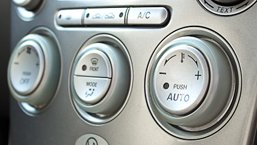 Make sure your Aircon is performing and smelling at it's best in time for the summer. Our aircon service will eliminate bugs and nasties that can build up during times when it's not used. Call us or pop along to see us in Victoria Road Bexhill. Our prices start at only £45.00
I just want to say a big thank you for getting my poorly car back on the road so quickly. I never expected to have it back the same day. My children love your van with the picture of the big cat they always look out for it when we're out now.
Thanks for fitting my dad's car in at such short notice. Great service as always.